Forum home
›
Road cycling forum
›
The cake stop
Samsung mirrorlink to car satnav help required.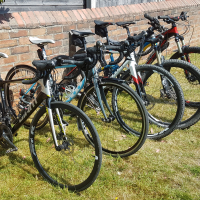 oxoman
Posts: 11,453
Hopefully someone can help me out as google has failed me so far. Currently have a Samsung A20 android phone and a 2018 Citroen C3 that until recently the satnav etc worked great. Unfortunately Samsung or android have ditched mirrorlink. i can get phone connectivity no problem but i cannot get satnav / googlemaps on the car screen. I've tried Android auto, waze plus some others to no avail. changed USB lead over to a brand new OEM one. Has anyone else had this issue and managed to sort it out. Final resort will be finding my old satnav out. Just annoying as effectively i have a car with inbuilt satnav connectivity that i cannot use.
Too many bikes according to Mrs O.