Forum home
›
Road cycling forum
›
The bottom bracket
Wishy Washy Wednesday.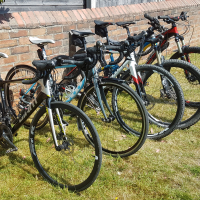 oxoman
Posts: 11,635
Morning Slackers. Last day of training course so hopefully pass the test at the end. Weather's not to promising a bit like the guvment outlook on covid. Bouncer is repaired ready for peak district tomorrow unless Boris bans us today of course. Sisters test today so on edge over that as well, fingers crossed and all that.
Too many bikes according to Mrs O.