Forum home
›
Road cycling forum
›
The cake stop
Coping with Mental health problems in Covid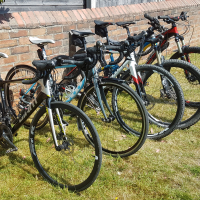 oxoman
Posts: 11,460
Seeing as the world has gone mad with media and Covid frenzy,s recently, I thought I'd put things into perspective.
Lots of people suffer from MH issues in different ways and unlike the past it is more socially accepted. People worry about anything and everything nowadays as everything is sensationalized in the media. Current news being rammed in peoples faces include the following, Covid, Refugee camps, terrorism, endangered animals, social media, racism, etc. Prior to Covid it was just as bad but people could take it or leave it as normal life got in the way, during lockdown people couldn't get away from it. Some coped better than others, but a lot have become stressed because there's no let up in it. My own experience is that having worked all the way through lockdown I get a new manager, this manager made a flippant remark about being sat on our butts. What actually happened is we pulled of a huge amount of non essentials engineering work undermanned and struggling for the basic parts and PPE due to lockdown. Refusal to do said work doesn't come into it as its better working than not. When confronted his comments were unreal, his words were I quote be thankful your working. Said manager has reduced myself and several other guys to gibbering wrecks, when he's on plant they keep him away from us as he's likely to get a good smacking. In nearly 40yrs I've never come close to this. Apparently according to the company shrink this is normal. I've had to put up with OH working from home, youngest off school in his most important yr and eldest on furlough and under threat of redundancy as a 2nd yr engineering apprentice along with 2 relatives dying of Covid or attributed to it. So I think I am capable of managing my MH issues pretty well and making decisions as I see fit. Now I am being told, lambasted or made to feel guilty for disagreeing with others over XYorZ. Cakestop is a social media stage in a way and as such people do go OTT, please think a little bit before posting comments will this affect someone. I know people on here who have recovered from Covid and also suffer MH issues and i respect their views but i dont abuse these. Just remember cycling has more than one function. Thankyou essay over.
Too many bikes according to Mrs O.