Forum home
›
Road cycling forum
›
The cake stop
Covid 19 Mask,s Compulsory for shops thoughts please.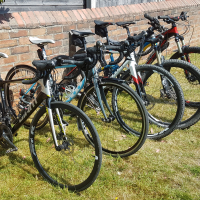 oxoman
Posts: 11,455
At the risk of being moaned at, what are people's thoughts on it being forced to wear a mask to go in shops. Having worked throughout I feel it's against my civil liberties and as a person who seen more than enough stupidity over ppe etc. I agree with common sense distancing and sanitizer etc, but some stuff is OTT. Public transport I agree with as people tend to be packed in together. My personal thoughts are I won't be going in any shop if forced to wear a mask. I don't go in packed shops even before covid as I hate being hemmed in. I believe that we need exposure to germs to build immunity, what do we do when the next virus comes along hide again. My belief is that a lot of people will agree with me and shops as we know them will close and online shopping will go even madder. What are people's thoughts on this or am over reacting. Please note I have seen what this virus does and have lost family to it, although they suffered with underlying issues as well.
Too many bikes according to Mrs O.