Forum home
›
Road cycling forum
›
Training, fitness and health
Event Advice.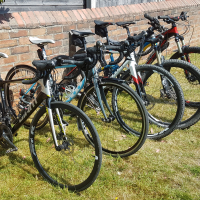 oxoman
Posts: 11,453
Before someone moans this is about running, loads of us on here swing both ways. I'm currently entered into a half marathon in sept with potentially 6k plus runners. I have the option to swap to 2021 no questions asked before a deadline. I'm in 2 minds to swap just in case of Covid and crowds / runners. Have loosely trained for it as worked through lockdown so not at my fittest. What's the collectives thoughts on this, am I being foolish doing it or paranoid not doing it.
May attempt a smaller endurance event instead as something I've not done.
Too many bikes according to Mrs O.