Forum home
›
Road cycling forum
›
The bottom bracket
Finally Thursday and forum still alive.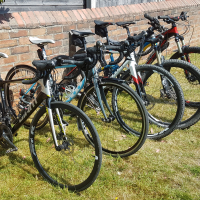 oxoman
Posts: 11,732
Morning All, forum still alive complete with some dodgy images. Last day on shift with the noddy,s. Will see what damage last night's biblical storms did on way in shortly. Enjoy your day all.
Too many bikes according to Mrs O.