Forum home
›
Road cycling forum
›
Cyclocross
Tannus tyre inserts or Tyre invaders.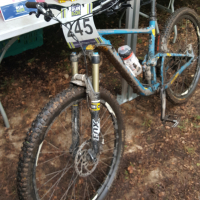 oxoman
Posts: 7,859
Probably the wrong place to ask, but ask I will.
Currently running my TCX with tubes as using it more as a XC or heavy duty gravel bike. All my other bikes are tubeless except this one and not looking to buy new TR wheels yet. Had some heavy hits and resulted in pinch flats even though running high pressures, normally catching sharp edges or big stones when hammering it. Looking at Tannus inserts or the Effetto tyre invaders, has anybody used these at all. Currently running smart sams 42,s on giant S-X2 wheels. Advice welcomed. Being used on easier red trails like Sherwood and parts of cannock and natural stuff in the peak district and occasionally the odd beginner CX race.
Too many bikes according to Mrs O.