Forum home
›
Road cycling forum
›
Tours, routes, audaxes & organised rides
›
Tour & expedition
Coast and Castles Edinburgh to Tynemouth advice and updates.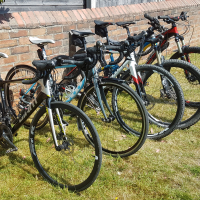 oxoman
Posts: 10,857
Folks looked on here and elsewhere and doesn't seem to be much up-to-date info on this ride, mostly 2 plus yrs old. Doing it in May as a steady 4 day lads on tour, pixx up get away from OH,s etc. Looking at Holy island as tides look favourable. How bad are the rougher sections and how hilly, as various conflicting reports. Suspect it's no hillier than C2C Morcambe to Bridlington. The off road buts I'm guessing will be hard packed tracks as its a sustrans route. Advice welcomed. Will update when we do it.
Too many bikes according to Mrs O.