Forum home
›
Road cycling forum
›
The bottom bracket
Monday for the Workers and nearly pineapple chunk time.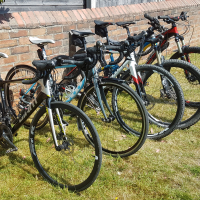 oxoman
Posts: 10,461
Morning Slackers. Last day at work and hopefully a quiet one as the management have all disappeared. Thankfully. Currently dry outside for a change. Drink cupboard bursting at the seams and ready to empty. Looking forward to consuming pineapple and expensive cheese chunks over the next few days, probably to excess.
Too many bikes according to Mrs O.