Forum home
›
Road cycling forum
›
New Wheel set advice required.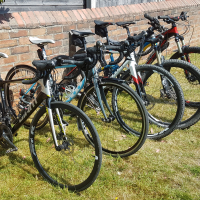 oxoman
Posts: 10,441
Probably asked this before, my American Victory Classic wheels are about worn out on the rims so after a replacement sets. Currently looking at some Borg31 and going tubeless on my commute, touring come wet weather bike. Wife has grudgingly agreed a budget of around £500 for wheels and tyres, needs to be bulletproof and rim braked shimano 10/11 speed. Skewers not through axles, not really wanting super lightweight or carbon. Bike weighs around 10kg plus 80kg ish rider with extra 12kg luggage for work max and possibly a bit more if I use it for light touring again. Existing wheels have done best part of 15k miles with 1 set of bearings and no spokes or buckles etc. Tyres will be IRC Formula pro cigars as per my other bike. Looking for same kind of reliability. What else is out there that will also do the job.
Too many bikes according to Mrs O.