Forum home
›
Road cycling forum
›
Road general
garmin woes, any thoughts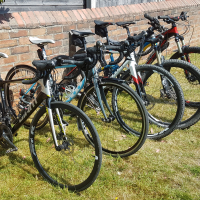 oxoman
Posts: 11,735
Its not up for debate over whether garmin are rubbish as that is fact they are.
Did the C2C last wk as a group of 6, 5 using garmins of which 4 are the edge touring model. On the last day they all failed bar 1 in differing ways. 1 froze then restarted after a power down and carried on from that point, another stopped giving prompts at junctions etc and mine just froze no speed etc just stuck on same position. Couldn't stop to reset mine straightaway but when i did a power down whatever it was trying to do had taken the battery life down to 4%. All 3 garmins purchased at different times and places and all played up in the space of 1 1/2 hrs. Any thoughts other than the bin.
Luckily i backed up using Strava on mobile.
Too many bikes according to Mrs O.