Forum home
›
Road cycling forum
›
The cake stop
London 14yr old stabbed to death on purpose.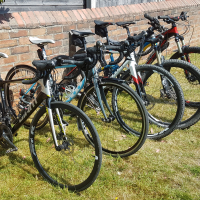 oxoman
Posts: 11,306
Before this goes mad, I feel sorry for the kid and his parents and for whatever reason the actions of others was totally unacceptable. My thoughts are this according to social media and people who supposedly knew him and news reports he was a good kid with his head firmly screwed on. Why oh why was a 14yr riding a moped when the legal age is 16, surely his parents knew. As a parent of 2 lads and grown up girls I have always made sure they knew the difference between right and wrong and also what's legal or illegal.
Too many bikes according to Mrs O.