Forum home
›
Road cycling forum
›
The bottom bracket
The Saturday madness before Christmas.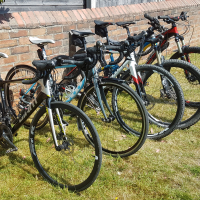 oxoman
Posts: 9,721
Morning All. Last day at work today, leaving the OH and eldest to do the food shopping.
saves me getting stressed out. Just a tad damp outside after last night's deluge. Dog is going in the oven later if I catch it, woke me up several times in the night wanting attention
. Eldest will also be buried up the garden as its his fault and technically his dog. Otherwise all good. Enjoy the pre Christmas madness.
Too many bikes according to Mrs O.