Forum home
›
Road cycling forum
›
The bottom bracket
Wednesday wandering about lost things.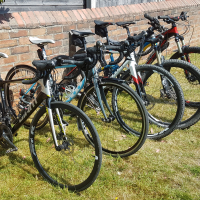 oxoman
Posts: 9,706
Morning Slackers, back to work day 2. Mobiles have been banned within the workplace for a bit
. So I may be quiet for a change.
Dry and currently very dark so can't see if we've lost anything.
Too many bikes according to Mrs O.