Forum home
›
Road cycling forum
›
The bottom bracket
May,s Manic Monday, probably.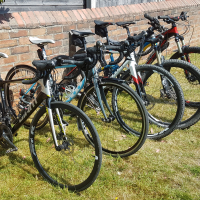 oxoman
Posts: 10,710
Morning All sleepy heads, last day for 2 wks and conspiring to break up last remaining work time this year with remainder of holiday. Suspect someone maybe fending censored of within the party today trying to sell BS to them. Looking dark and damp outside so take it steady folks, happy Monday.
Too many bikes according to Mrs O.