Forum home
›
Road cycling forum
›
The bottom bracket
Rememberance Sunday lest we forget.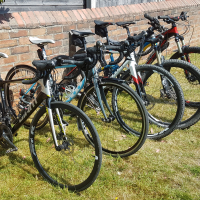 oxoman
Posts: 10,992
Morning. Stuck at work otherwise I'd be supporting local rememberance service and parade. Hopefully we will not forget the sacrifice they made all those years ago. On another note I trust somebody didn't to wxxnkered last night. My turn tomorrow night.
Too many bikes according to Mrs O.