Forum home
›
Road cycling forum
›
The bottom bracket
It's Friday but only just.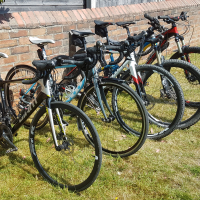 oxoman
Posts: 10,710
Morning sleepy heads. Back at work for a few days so hopefully not a lot to do once I get in. Seems very dark outside but at least people should see me on my bike, unlike the mupppet that nearly had me last night. 2 decent lights plus one on my helmet and he looked straight through me till screamed at when he pulled out on me. Late night shopping later with OH so early finish planned. Got to sort eldest,s gear out for upcoming outward bound apprentice team building trip with work, glad he's paying for the stuff he hasn't got for a change.
Too many bikes according to Mrs O.