Forum home
›
Road cycling forum
›
The bottom bracket
Monday maybe the start of something.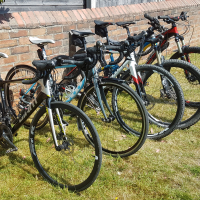 oxoman
Posts: 10,466
Morning Slackers, no bimble in today as woke up to late so driving in for a change. Suspect I'm going to be subjected to a day of stupid as boss is in all day for a change. Looking very dark outside, even needed lights on way home yesterday evening. Try to explain to storeman that when I order stuff I want it yesterday and not next year, might make him wait till summer for his new office heating. Might work. Why's everyone gone gaga over Darceys knickers. Pervy sods.
Too many bikes according to Mrs O.