Forum home
›
Commuter cycling forum
›
Commuting general
Front bag for winter bike.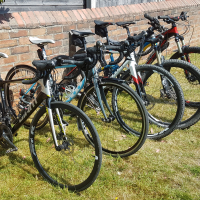 oxoman
Posts: 11,746
Hopefully someone can help me out, looking for a big bag that will clip onto front bars of my dropbar winter bike that will still allow me to mount my lights. Everything I've seen so far stops me mounting my lights and at 4-15 on winter mornings on country roads that's not an option. Don't really want rear saddlebags or panniers. Need to fit my lunch and various other bits in. Cheers.
Too many bikes according to Mrs O.