Forum home
›
Road cycling forum
›
The bottom bracket
Saturday or spam day.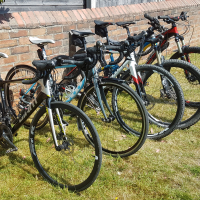 oxoman
Posts: 10,465
Morning All. Back to the Midlands last night after trip oop noorth, gotta love the A1.
Sadly back at work for the next 4, no pedalling in to day as absolutely bolloxed from yesterdays driving. Oh and censored weather. See the spammers have been rather busy again, oh well keep somebody busy clearing it up I suppose. Trust yesterday went as good as could be expected V. Enjoy your wkend all.
Too many bikes according to Mrs O.