Forum home
›
Road cycling forum
›
The bottom bracket
Friday hiding from Florence.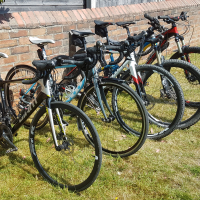 oxoman
Posts: 10,455
Morning, work today all be it an early finish to pack up for the weekends fun. Hopefully everything will be quiet at work and I can chill as several chains to clean and lube in company time. Have a good wkend all.
Too many bikes according to Mrs O.