Forum home
›
Road cycling forum
›
The bottom bracket
Tuesday the apocalypse is upon them.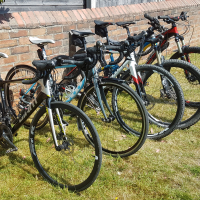 oxoman
Posts: 9,719
Morning World. What happened to the beast from the east, turned tail and ran off here at the minute. Boss at GMC is about to reap his reward for being a twonk as I have a white envelope to give him saying stuff you son. Just accepted a day's only job with no corporate BS and almost the same salary. Enjoy your day I will. Downside today is telling 3 other companies thanks but no thanks for their offers. Oh well.
Too many bikes according to Mrs O.