Forum home
›
Road cycling forum
›
The bottom bracket
Wednesday let's all celebrate midweek with beetroot.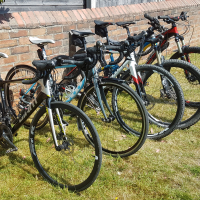 oxoman
Posts: 9,719
Morning from GMC coffee pot. Just a few hours till home time. Suspect current boss may realise he might have to replace me pretty rapido. OOPS. Being very nice at the moment I wonder why. Currently dry and mild outside.
Too many bikes according to Mrs O.