Forum home
›
Road cycling forum
›
Road general
Cheapish CX TR tyre advice wanted.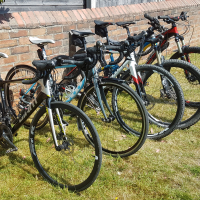 oxoman
Posts: 11,741
Yes I know it's in general but thought it would get more exposure this way. Looking for 700cc 38 up to 42 tubeless ready tyres for my TCX, don't want to spend loads as other expenses coming up. Currently using maxxis mud wrestlers in 33 basic OEM spec and nearly worn out on centre lines. Main riding is mixed hard gravel, grass and occasionally mud. Looking to be doing more softer muddy stuff as well as using it on easier red rated trail centres, hence bigger than 33,s. Seen smart Sam's and cycl,x and cx pro,s and wondered if I'd get away with them.
Too many bikes according to Mrs O.