Forum home
›
Road cycling forum
›
The cake stop
Any Citroen C4 Cactus owners on here.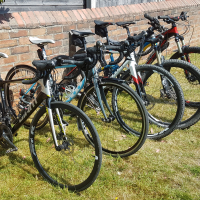 oxoman
Posts: 11,306
Looking at replacing current motor for nearly new C4 cactus Dirty Diesel version, anybody on here own one. I'm not interested in the save the planet lark anything that's £0 car tax can't be that bad and certainly better than any car from when i stared to drive back in the 80s with a manual choke. Only reasons i'm looking at it is padded sides as fed up with muppets bashing my current car, it does a more mpg and is £0 to tax as opposed to £30 a year i currently pay. Its also cleaner to run and comes with roof rails ready to fit bars to. I'm after any reliability and driver niggles as iv'e never had a Citroen before from owners and mechanics. Cheers
Too many bikes according to Mrs O.