Forum home
›
Road cycling forum
›
The bottom bracket
Clean sweep Thursday. Back to normality.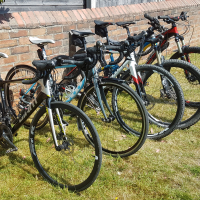 oxoman
Posts: 9,705
Morning All. Thought we'd forget the recycling censored . Being taken out for lunch by eldest lad before having to start night shift later today. His way of saying thanks for paying out for driving lessons and extra insurance. Enjoy your day
Too many bikes according to Mrs O.