Forum home
›
Road cycling forum
›
Pro race
Giro 2017: Stage 10: Foligno – Montefalco 39.8 km ITT *Spoilers*

blazing_saddles
Posts: 14,022
STAGE 10: Foligno – Montefalco 39.8 km ITT

START TIME: TBD
After the start in Foligno, which will host the Giro for the 7th time, the route quickly leaves the old town centre and takes relatively wide and mainly straight roads for over 12 kilometres, until past Bevagna (time recording). The route then starts to climb at an average 4-5% gradient, and reaches Madonna delle Grazie, where the road becomes a false flat up. A fast-running and technical descent twists and turns all the way to San Marco, where the road flattens and straightens out. The route takes a U-turn in Bastardo (second time recording), then a false-flat uphill drag leads to Montefalco. The slopes are never steep, yet the climb is unrelenting. The road, narrowed at points, leads all the way to the walled city of Montefalco (unprecedented stage town). The final kilometres are slightly uphill. In the last kilometre, the route descends and passes through a gateway, and then goes up again, on a short, steep ramp, leading into the 200-m long, uphill home straight, on 6-m wide asphalt road.
Map:-
Profile:-
Last Kms:-
The technical finish:-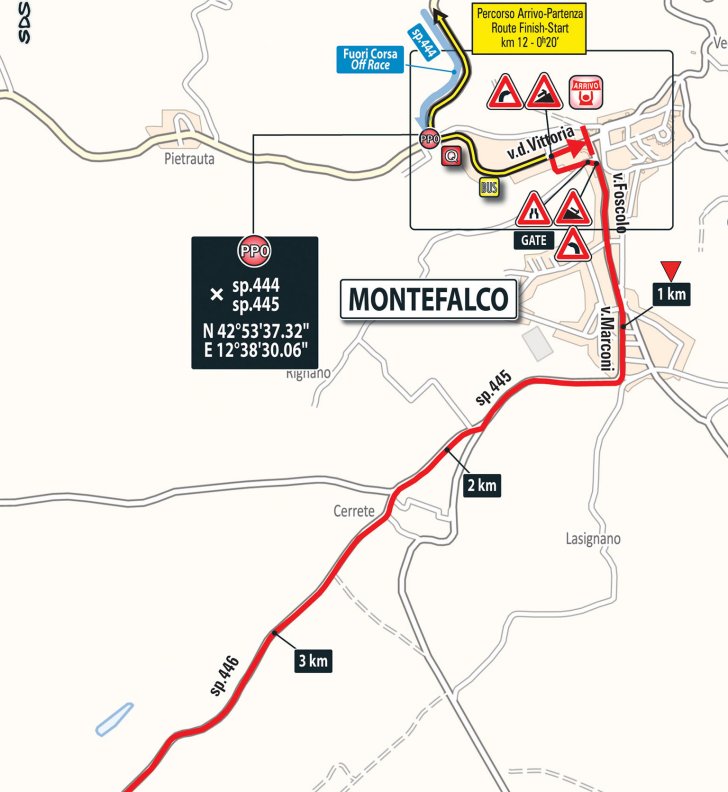 "Science is a tool for cheaters". An anonymous French PE teacher.