Forum home
›
Road cycling forum
›
The bottom bracket
Finally freezing Friday's here.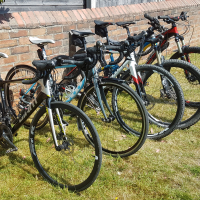 oxoman
Posts: 9,705
Up to my neck in n+1, can't choose between new carbon cube plus giant tcx and or just get a defy advanced pro 2 instead. Wife's not helping matter by saying get whatever you will be happy with. What a dilemma. Wife and youngest out, eldest not doing work experience as he's succumbed to man flu after four days on a freezing site. Ho hum, enjoy the wkend folks
Too many bikes according to Mrs O.