Forum home
›
Mountain biking forum
›
MTB general
Removing Carrera decals from frame anyone done it.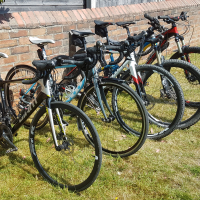 oxoman
Posts: 11,747
Has anyone removed decals from a carrera frame without a repaint being required. Fork decals are easy enough but need to remove frame decals without damaging the paint. I can if need be cover existing girlie decals with something bigger but ideally want to lose them all. Respray not a good idea as wife already moaning at spending money on replacing grips and saddle. Help appreciated, have searched and found results for different makes but not carrera,s.
Too many bikes according to Mrs O.