Forum home
›
Mountain biking forum
›
Ladies bike for a youngster.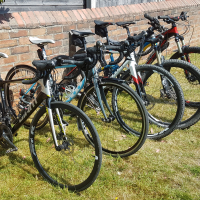 oxoman
Posts: 10,992
Following a recent post on the Laura Trott MTB1 and in need of a bigger bike for a rapidly growing 11yr old lad I'm half tempted to get it for him. Looking at removing stickers or covering with something more suitable and replacing the saddle for male specific one. My thoughts are that as a youngster he would be more suited to the ladies frame than a bigger male frame. I'm thinking that it will last him for at least 3 yrs if he grows like his bigger brother. What are your thoughts gents. It's an easy one for me to get past the wife as his existing bike and my carrera fury will cover it pretty much, plus I can get 10% off it. See spec.
http://www.halfords.com/cycling/bikes/m ... -_-TopLink
Too many bikes according to Mrs O.