Forum home
›
Mountain biking forum
›
New Hardtail frame advice.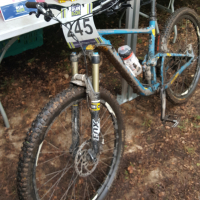 oxoman
Posts: 8,838
Following a trip to Sherwood with youngster after a month or so off his bike, had to finally admit his 24" meridia is to small. Was intending to build something over winter but need to do it earlier than intended. Looking at Dartmoor Primal running 26" wheels and epicon 120mm forks from my old 2010 Carrera Fury and going single up front with 11/40 rear cassette. To those in the know is this a reasonable proposition for a nearly 12 yr old or is there something better I could do. Did think about getting a smaller frame fury but thought I could do better. Suggestions and advice sought.
Too many bikes according to Mrs O.