Forum home
›
Road cycling forum
›
Cyclocross
New bike and easier gears advice.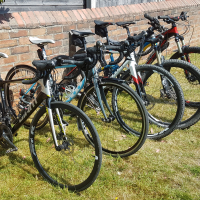 oxoman
Posts: 10,988
I currently have a road bike and a mtb but both are either overkill or not capable on some of the longer off road rides I'm doing. So I'm looking at disc equipped 10 / 11 spd not bothered which, with capability to fit a sunrace 11 to 40 cassette on the back. Some of the rides I do have very steep climbs that I struggle with at times on my mtb as unable to stand to pedal due to losing traction. Not sure if the bigger mtb style cassette will go with tiagra or 105. As an idea I like the look of the cannondale caadx, it is highly likely I will have a go at some more cx races having done a couple of beginner ones on my mtb. May also get used as a winter bike as well. Any advice folks. Max budget £1200.
Too many bikes according to Mrs O.