Forum home
›
Family & kids cycling forum
Kid's and STi shifters.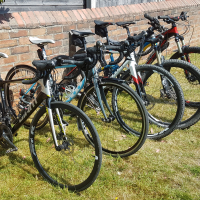 oxoman
Posts: 11,724
Just a heads up on kids using STi shifters. I have just swapped my youngest to a 26" wheeled Moda I picked up with the older style sora shifters. Took him down the local park showed him how to change gear, great I thought after first lap managed to change up and down ok on front deraileur and rear cassette ok but second lap turned a corner as he changed gear and discovered the hard way not to pull when changing gear. Currently singing soprano, LOL. He didn't realise that his brakes where that good, have slackened them off a lot and he's managing a lot better. Have also fitted the biggest shim I can as he couldn't reach the drops fully and crosstop brakes like his last bike. Taking him to local circuit for training night to get him used to them properly as a nasty rise on the track to make him use his gears. With hindsight I should have modified his old 24" wheeled bike bar top shifters at day one. I'm interested in other parents findings on their kids going onto STi shifters.
Too many bikes according to Mrs O.