Forum home
›
Family & kids cycling forum
Smaller single 152 chainset help please.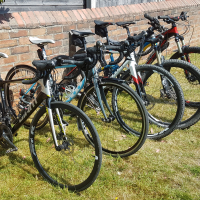 oxoman
Posts: 11,629
My youngest has done a couple of harder trails recently and is struggling with his 32 single front to 36 rear. Currently running 10 speed Deore on 24" so can't really fit a bigger rear cassette ? I'm assuming. So looking at fitting smaller front if possible, I know there's a few people on here who modify smaller bikes heavily so advice please gents. Looking at cheaper options as I suspect by next Xmas he will be on a 26" full sus if I can find one at the right price.
Too many bikes according to Mrs O.