Forum home
›
Mountain biking forum
›
MTB general
Giant Anthem mudguard help.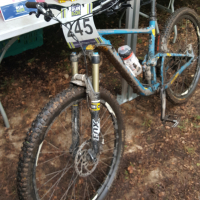 oxoman
Posts: 8,843
Has anyone come across a mudguard that I can fit to cover the rear suspension and front mech on my Anthem, have already fitted an Enduro guard to the front but cannot use one on the rear as only one side of the maestro linkage to fix to. Assistance appreciated.
Too many bikes according to Mrs O.