Forum home
›
Mountain biking forum
›
MTB general
Registration number for cyclists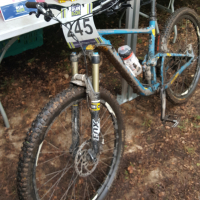 oxoman
Posts: 9,281
I just thought you might like to read this, imagine riding Cannock in a hi viz vest with your reg number on and being pulled up for going to fast around the Monkey Trail.

Just spotted a column in my local paper, The Burton Mail. Apparently the MEP for the West Midlands Nikki Sinclaire is calling for all cyclists to be registered for more accountability and suggested that all cyclists should wear a hi viz vest with the registration number on just like a car. Best of it is we voted for her to be an MEP, well some numpty did and she describes herself as an occasional cyclist.
Can't see this going down well imagine the TDF riders all wearing hi viz vests all the same or Holland or any other country wanting this. I am posting this in other sections and apologise in advance if this has been picked up before or for any heartache it might cause to those of a nervous disposition to hi viz vests. Good god we will have to wear a hi viz vest just to go shopping next.
Too many bikes according to Mrs O.
This discussion has been closed.