Forum home
›
Road cycling forum
›
Workshop
Tyre Scraping at top
Morning guys,
I replaced tyres on my Boardman commuter at the start of the week - after a lot of research into puncture resistance, I went for 25mm Panracer Ribmos (made by panasonic!).
Ive just noticed that the front tyre is catching the top of the brake holder once every revolution (so something isn't completely round - be it the tyre or rim). I was just surprised at how little margin of error I now have at the top - can the brakes be adjusted to leave more of a gap or maybe install a different bracket?
I really like the tyres so want to try and keep them if I can.
Sorry - as you can tell, my mechanical knowledge is abysmal, thats why im here to ask the experts!
Heres a picture of the problem (excuse the filthy bike, took this photo after getting home last night!)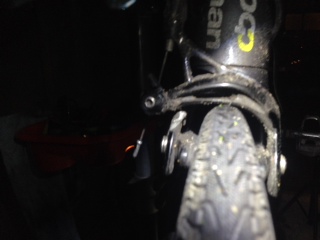 Any help much appreciated