Forum home
›
Road cycling forum
›
My Canyon buying experience
DHA987S
Posts: 284
When I was looking at buying a Canyon bike there were a few threads on here but not too many, a google search of the rest of the net doesn't bring up loads either - so I thought I would put down some thoughts on my recent experience buying a Canyon.
I was looking at a new road bike and wanted one with Ultegra di2. However the mainstream manufacturers want £3500 for such a bike, lower that budget and you can get a Focus or Cube but they have scrimped on a few of the components on the Cube and it isn't full Ultegra. I had looked at Canyon and the reviews all seem very very good for the Ultimate AL di2, but I looked around for some real world experiences of the bike. A few were found on here and they seemed positive.
Next up was sizing. The PPS system recommended a 50cm frame for me (I am 5ft6 and was riding a 52cm trek) that seemed small. A friend looked at the figures and the 53cm seemed to be the closest fit to my trek. I emailed Canyon in the UK with my measurements and they were quick to reply and also said that a 53cm would suit me better given my measurements. Take the PPS system with a pinch of salt....
I asked a few more questions of the Canyon UK people prior to ordering and again they replied quickly and with the answers I wanted.
One of the questions I asked was how long for delivery for a bike that is "immediately available". The response was a week to 10 days for arrival in the UK. This suited me as I was off for a week's holiday. I ordered it on Friday 29th June, (I was away from the 30th until the 8th July so the 7 to 10 day delivery should have worked out fine). Payment was from a UK debit card and worked just like paying any other internet based company, I had heard issues with payment but it seemed exactly like anything else I buy online so I'm not sure where people have issues with it?
On the 2nd July I got the email that my bike was ready to ship, still all perfect with the 7 to 10 day arrival time. Or so I thought.....
The bike was delivered on the 4th July, Friday order to Wednesday delivery which is an pretty good turn around given it has to come from Germany to the UK. UPS are the courier, you can track the parcel online. I saw it had been delivered, but there is no notice of where it has been delivered to - the notes say "delivered to Residential" with no specific address and the name given by the signatory didn't match my neighbours. I was a little worried. (on my return home there was no card through the door either to say where it had been delivered to, which is poor). However next door had taken it in for me and even kindly put it in my house so it was here when I got home
This is what greeted me on return from holiday
The box was smaller than I thought it would be, a previous online bike order had come wheels attached but Canyon pack the bike with the wheels off making the box smaller and no doubt cheaper to send over.
The bike came very well packed in the box, plenty of extra cardboard housing inside to protect everything and keep it in place.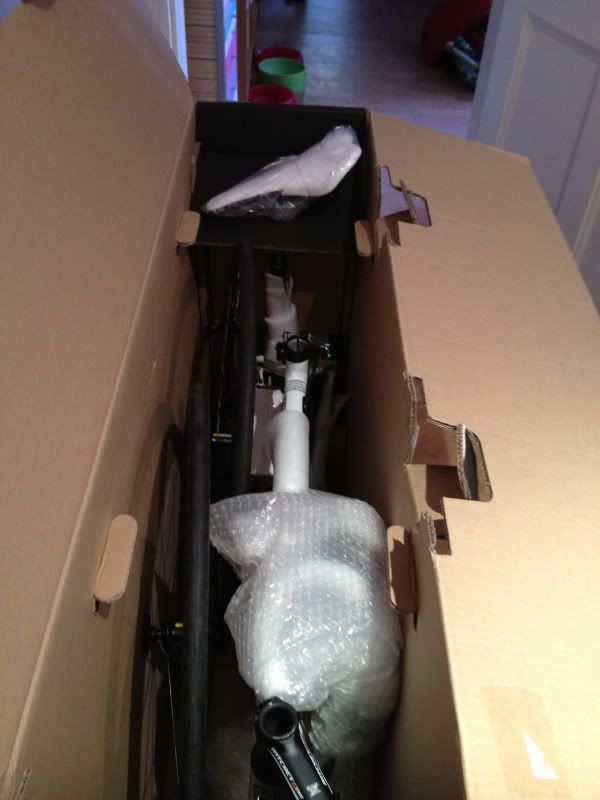 Out of the box and ready to assemble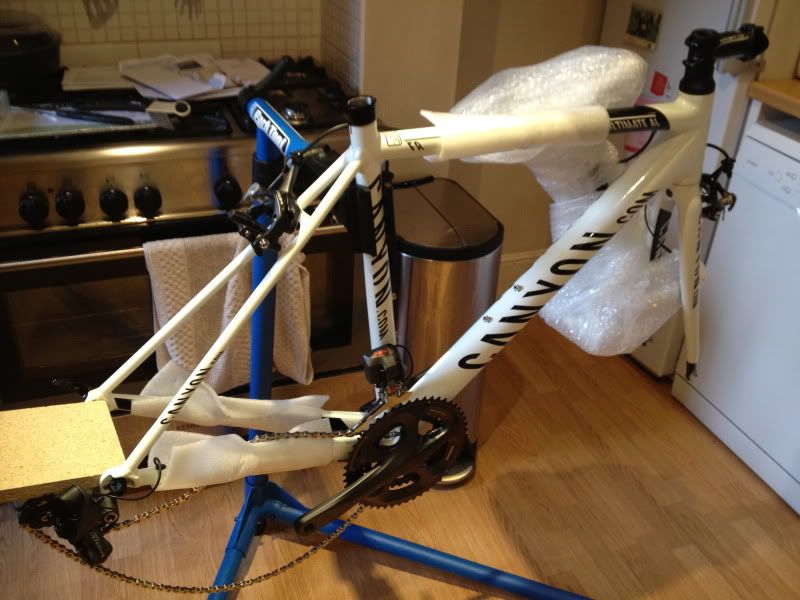 note the wood in the rear dropout for a bit more protection during transit.
All that was needed was to attach the handlebars, pedals and wheels (I fitted my own wheels rather than those supplied to I had to swap the cassette as well).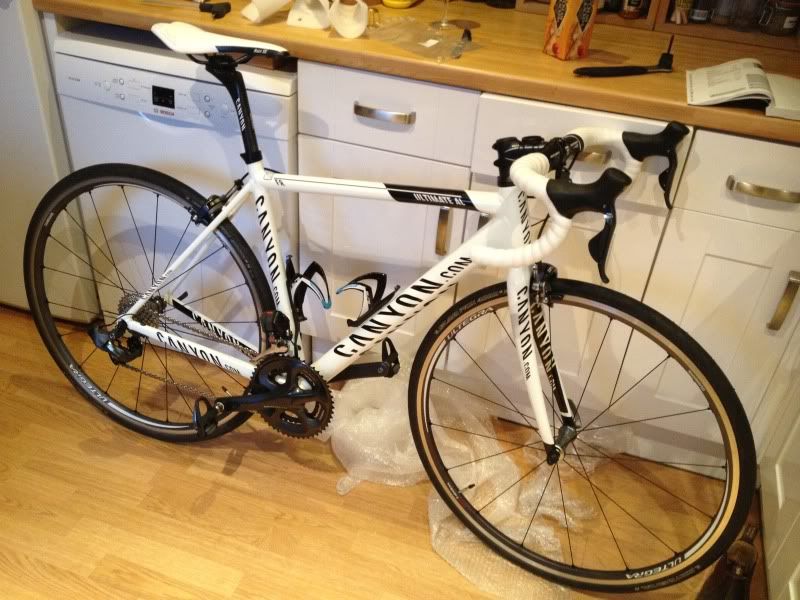 Looks great I think. The price for the bike was £1780 plus around £50 to ship, great value I think. It rides very nicely and the di2 is brilliant; perfect shifts everytime and no effort required at all when shifting the front mech. Yes it probably isn't as good as top level mechanical systems but there is the bonus of no maintenance, and the weight penalty is not something I am massively concerned about given the quoted weight of 7.55kg for the bike.
Very pleased and well done Canyon for delivering very quickly!