Forum home
›
Mountain biking forum
›
MTB workshop & tech
Sheered M6 Bolt in Hope Hed Doctor
T1berious
Posts: 438
Hi,
Ever wish you hadn't noticed a bit of play in a Headset? I was just checking my partners bike yesterday after a ride at Cannock and noticed a bit of play in the Headset. so I unscrewed the stem bolts and started to loosen the top cap and the bolt just came apart.
Here's some pics: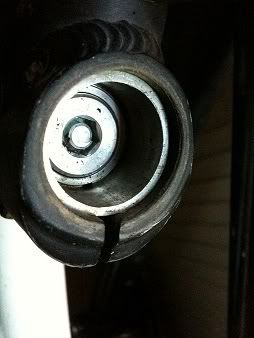 We're supposed to be riding later and I've no idea how to get this fixed quickly. I had hoped there was enough gap to loosen the HED Doctor while the bolt was in place (not sure if that would work anyway) but there isn't.
Any advice greatly appreciated. And a SFN is an option but I'm pretty censored at installing them. tried, failed, got the HD.
Thanks,
T1b