Forum home
›
Mountain biking forum
›
MTB workshop & tech
Chain too short?
noidea
Posts: 623
HI, I have recently upgraded complete gearset (accept the front mech) on my bike to the following:
XT hollowtech cranks FC-M752
XT 9 speed cassette 11-34T
XT 9 speed chain HG93 9spd
XT Rear Mech 9spd M772
Deore shifters
Stock front mech for now (cheapo Shimano C50)
I have followed video tutorials to setup my front and rear mechs but I still find that on the rear, I have trouble selecting some gears and they require the shifter to be clicked and then held for a few seconds untill it shifts. The H and L adjustment screws have been adjusted as best as I could to the but where if I either tighten or loosen them half/ quarter turn it just makes it worse.
I followed the Park Tools guide to shorten my chain (around both biggest cogs without mechs and add one inch) but when in the largest gears the chain looks way too short: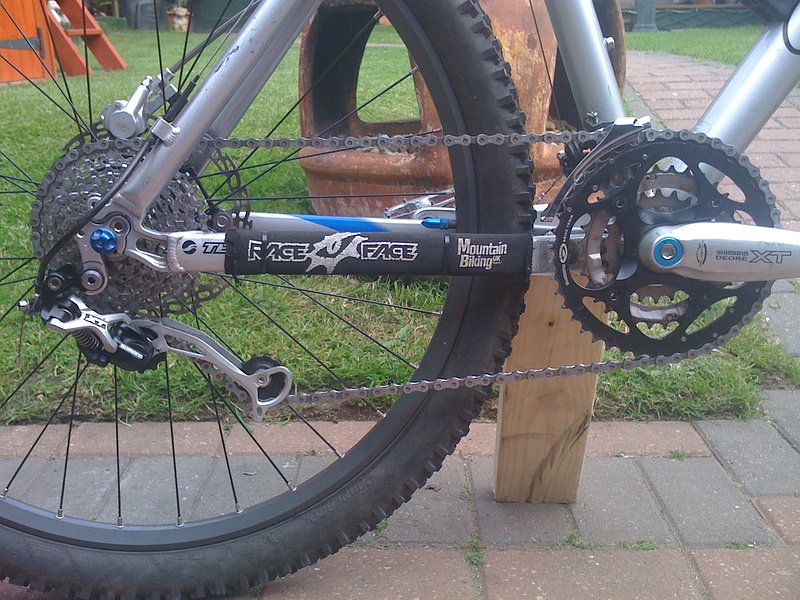 The chain was brand new and shortening it to what its supposed to be the correct lengh only needed about 4-5 links being taken out. IMO it looks too short and could this be causing the rear shifting problem?
My old rear mech had a cable tensioner but the new XT one wasn't supplied with one but it is second hand. I have looked on pinkbike, some XT mechs have one and some don't.. any ideas?
Please bare with me, this is the first time i've upgraded an entire gearset.
<blockquote id="quote"><font size="1" face="Verdana, Arial, Helvetica" id="quote">quote:<hr height="1" noshade id="quote"><i>Originally posted by king andrew the 1st</i>

im currently sitting in front of my pc spinning away on my brothers signature edition
<hr height="1" noshade id="quote"></blockquote id="quote"></font id="quote">