Forum home
›
Road cycling forum
›
Road beginners
Just taken delivery of my new Specialized Secteur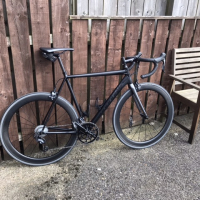 dg74
Posts: 652
and have to say I'm impressed. Not ridden it yet but even just sitting on the bike it feels a whole lot more comfortable than the previous bike I had. I plumped for a 58cm frame as I like a larger frame (I'm 5'10") and feel more secure on a larger frame.The whole bike just feels 'right' so for me this is a plus as I was starting to wonder if I wanted to carry on cycling.

If it rides as good as it looks and feels I'm going to be well happy. Oh and as another poster pointed out, there is some trouble getting the wheels off the frame using the QR as the brake calipers do not open far enough to let the tyre slip thru. Much to the detriment of my car (which I've just found out ) :x

Anyway, here's to christmas. God bless you all!