Forum home
›
Road cycling forum
›
Workshop
So whats up with me bike now?
Hi.
New day, new problem!
Basically I thought there was a crank problem, but on later inspection it seems it may actually be the rear mech, the jockey wheels to be precise, they seem to be slanted to the point the chain sometimes/most of the time is in contact with the metal cage, is it supposed to be like that?
Here is a pic I took from a site and put an arrow on to show you where I mean, could not get a pic of my bike.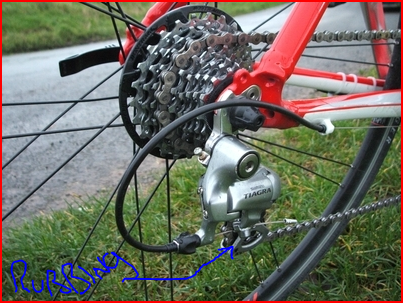 Basically the wheel the arrow is pointing at is not straight and is causing the chain to come into constant contact with the metal cage.
Bearings worn? No cog needed?
Thanks
Will.